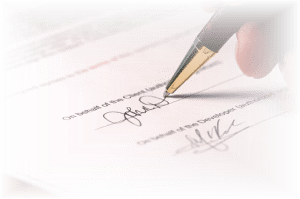 Use A Real Professional Notary Signing Agent for When It Must Go Through! 
Call (323)393-5822 now to book me.
If you are looking for a professional, experienced Notary Signing Agent to preside over your loan signing, Hollywood Notary Dot Net can help you!  David Ransom has performed over 2.000 loan closings over the past 9 years!  David has presided over  loan signings from all major lenders, including Wells Fargo, Bank of America, Citigroup, Kinecta Federal Credit Union, Union Bank, Charles Schwab, Chase and Cash Call.  I am the Notary to call when you are scared to use an amateur- when everything has to be perfect!
I do not do fax-backs!
I currently charge the following rates for loan signings:
$200.00 for up to 130 pages
$225.00 for up to 175 pages
$275.00 for up to 200 pages
$300.00 for up to 225 pages
If the documents are already printed and given to me by the escrow company or lender, then I charge $50 less than the prices quoted above.
Prices include printing and travel to the clients, up to 20 miles.  I can travel further, to anywhere- call for a quote.
The Price is Right!
I am a firm believer that you get what you pay for.  Some loan signing companies only pay Notaries $70.00 to print and sign up to 200 pages!  That's not me.  I charge what my time and effort is worth.  Even at what I charge, it's a bargain, especially if you want to make sure it's done right.
I charge more than most signing agents for loan signings, because I have more experience with these signings than most, and I am the best.  I am careful to not allow errors in the signings- I double check everything.  I value my time and I command respect- that's why my work is the best, and that's why I charge what I do!
I am a licensed, bonded Notary, with $100,000 in Errors and Omissions Insurance. My commission expires 11/5/2017.  I have been an NNA-trained and background-screened signing agent for 9 years.
Whether you are looking to book for next-week, next-day or even a 24 hour Notary, I can help you (extra charges apply for signings outside of the hours of 10am and 9pm).
To use my professional loan-signing services, please call David Ransom at (323)393-5822, or email David at hollywoodnotary@gmail.com.
Thank you for choosing Hollywood Notary Dot Net!