15 Common Documents Submitted To Us For Apostille or Authentication
Each and every day, we process many types of documents from California for use all over the world. Some of these clients come to my office. Other clients call me to travel to their homes or offices in Los Angeles or the surrounding cities, like Beverly Hills, Santa Monica, Burbank, Glendale or City of Vernon. Most of our clients use our Apostille Order Form (a concept invented by David Ransom). All of these documents have been signed by California Notaries or by certain California public officials.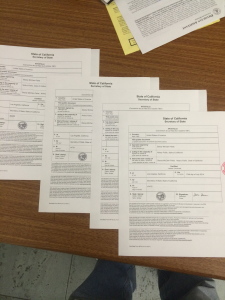 The following is a list of 15 documents that are commonly submitted to us for Apostille or Authentication for International Use:
Power of Attorney
 Birth Certificates (issued by County Recorder or State Health Department)
Marriage Certificates
Death Certificates (issued by County Recorder or State Health Department)
Vehicle Titles, including Automobile Titles and Motorcycle Titles from the California Department of Motor Vehicles
Divorce Decrees (for California)
Court Orders (issued in California Superior Court)
School Transcripts (Elementary School, Middle School, High School, College, University, Grad School)
Diplomas (from any school, college or university in California)
Certified Copies of Deeds
Power of Attorney
Notarized photocopy of any document, including Driver License, Passport
Legal documents (notarized)
Student Enrollment Verification
Lawsuit
For documents that require Notary, our prices include one free notarization per document when we perform the notarization at our office or at your location. All documents must be reviewed by us before we accept them for service. Call David at (323)393-5822 for advise, or email your documents to us at: hollywoodnotary@gmail.com
Thank you for choosing Hollywood Notary Dot Net in Los Angeles as your Apostille Service Provider in California, for all your California documents. We welcome your feedback!
Related Links: