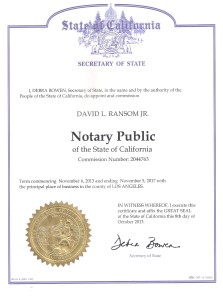 About Us – Service Mission – Owner Information – Mobile Notary Coverage Areas – Services Provided
Hollywood Notary.Net was founded in 2006 by David L. Ransom Jr., inspired after working for 16 years at Fed Ex and 5 years for the Walt Disney Company (for The Disney Store, Disneyland Resort and Disney Vacation Club divisions).  Inspired with the prospect of owning an internet-based business, David conceived of HollywoodNotary.Net while working at Disneyland for Disney Vacation Club.  With the prospect of reaching thousands of clients all over Los Angeles County  (and later,  thousands of potential clients from all over the world), David continues to seek ways to expand his business across the globe, as well as the County!
Customer Service
For most of David's 16 years at Fed Ex, he was a Senior Customer Service Agent.  About 30 percent of David's job duties included resolving issues for customers.  David learned that most problems can be avoided by doing things correctly the first time, through careful planning.  That is why when you use our service, you can be assured that we will begin by doing things correctly at the beginning, so that once we provide service to you, you will be able to move forward with confidence that it was done right, whether you are getting your documents notarized or getting your public documents authenticated.
Guest Service
Whether you visit David's residence for Notary Services or you are speaking to him on the phone or visiting this website,  you will always be treated with the utmost respect and service.  After all, you aren't only a client- you're a Guest!  David will always strive to listen to you and ask you questions to ensure that he will provide the best Guest Service experience!
Services Provided By Hollywood Notary.Net
We provide Mobile Notary Services and many Expedited Document Services related to getting our clients Certified Public Documents.  These include: Apostilles,  Authentications of Public Documents for Foreign Use,  Certified Public Document Records from the Los Angeles County Recorder's office (including Fictitious Name Statements and Recorded Real Estate Transactions), Certified Court Case Documents from the Los Angeles- area California Superior Courts (including Divorce Decrees),  and Certified Copies of Documents from the California Secretary of State's office, including California Certificate of Good Standing, Statement of Information, and Articles of Incorporation.  We also provide Authentication at Consulates located in the Los Angeles area, including the consulates of Brazil, China, The Philippines, and many more!  
The Certificates that notaries complete (the Acknowledgments or Jurats), whether contained within your documents or attached to them, are Public Documents.  Therefore, every document that you get notarized becomes, at least in part, a Public Document.  In order for your documents to be legally used in a country outside of the U.S., your Public Documents must either receive an Apostille or be legalized (authenticated through an Embassy or Consulate).  We offer Apostille Services and Public Document Legalization (Authentication) Services for Public Documents from California. To find out what an Apostille and Authentication is, click here.
About Our Apostille and Authentication Services
Anyone can go to the appropriate agency (or contact them for directions) to receive an Apostille or Authentication. However,  the process can be confusing, tiresome, and time-consuming and frustrating, unless your documents are presented with everything in order.  Our Company helps anyone- Corporations,  small businesses, and individuals- who has an urgent need to get Apostilles and Authentications quickly for their Public documents.  Because we have been doing this type of work consistently for over 6 years, you can rest assured that your documents will arrive to you in good order, and by the promised time.
About the Owner
David L. Ransom Jr. is a native of Los Angeles.  He received his Bachelor of Science Degree in Mathematics/Applied Science in 1987.   David worked at Fed Ex just 2 weeks shy of 16 years.  David also has had a longstanding love of all things Disney, and worked at The Disney Store while he was working full-time at Fed Ex.  Years later, David returned to the Walt Disney Company, working at Disneyland Resort in the Cast Costuming Department .  Later, David transferred to work for Disney Vacation Club at Disneyland Resort, where he informed Guests about the great advantages of being a Disney Vacation Club Member (David actually knew a lot about that, since he had been one for about 5 years).  David eventually served as the Webmaster of Disneyana Fan Club, an international Disney fan club, for almost 3 years, and is currently Assistant Webmaster for the Club.  David hopes to someday work at Disney again after he has firmly established himself as a millionaire  (much work is needed to accomplish this, and your help in this endeavor is appreciated!)
Areas of Coverage for Mobile Notary and Apostille Services
As a California Notary Public, David can notarize documents in any county of the State of California. For local Notary work, David  specializes in the Hollywood area (downtown Hollywood, Hollywood Media District and residences) and serves the surrounding areas: Hollywood, Hollywood Hills, Larchmont Village, West Hollywood, Los Feliz, Silverlake, Glendale, Hancock Park, Mid-City Los Angeles, Baldwin Hills, Windsor Hills, Palms, Mar Vista, Cheviot Hills, North Hollywood, Burbank, Universal City, Century City, Beverly Hills, West Los Angeles, Brentwood, Bel Air, Rancho Park, Downtown Los Angeles, Jefferson Park, Highland Park, Sherman Oaks, Vernon, Watts, West Adams, Westwood, Venice, Playa del Rey, Marina del Rey, El Segundo and Santa Monica, and other areas of Los Angeles County. David will also travel to any area of Orange County, San Bernardino County, Ventura County or Kern County if requested.
Our California Apostille and Public Document Authentication Services are available to customers worldwide.
The shipping address for the delivery of documents is:
David L. Ransom, Jr.
Hollywood Notary.Net
1650 Virginia Road
Los Angeles, CA 90019
Phone (323)393-5822
Skype Name: dransomjr (if you want to talk to me on my computer on Skype)
David's email address is:  hollywoodnotary@gmail.com.  
Feel free to email David  anytime. The email is checked at least twice a day.  Our phone number is (323)393-5822.
We look forward to working with you! Thank you for choosing Hollywood Notary.Net. 
David L. Ransom, Jr., California Notary Public, Mobile Notary Public , NNA-Certified Notary Signing Agent at Hollywood Notary.Net (323)393-5822
www.hollywoodnotary.net
Copyright 2006-2013 David L. Ransom Jr.