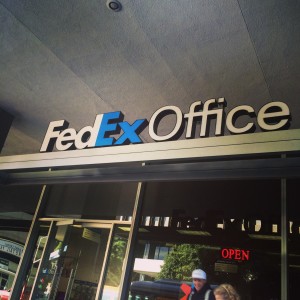 We only ship with Fed Ex
We only ship documents using Fed Ex Express and Fed Ex Ground, for 5 reasons:
Fed Ex delivers next-day to many local clients, and all over the United States and worldwide, with time-definite delivery. A package tracking number is provided with every shipment, which is emailed to each of our clients when their return shipments are created. Fed Ex also provides a delivery commitment when the package is shipped.  This means that I can provide time-definite California Apostille Services to anywhere. Fed Ex has a service guarantee to most places, meaning that you are more likely to receive your documents on time, anywhere.
Fed Ex allows declared value for document shipments, whereas UPS does not.  What does that mean?   What it means is this: if Fed Ex loses your package, even a package of documents, you are covered for up to $100 in value for replacement of what was lost – automatically, without having to pay extra. You can even declare more value for your domestic shipments- up to $500 worth in a Fed Ex envelope domestically. At UPS, they do not allow you to declare a value on your document shipments, and their policy is this: documents have almost no value. What that means is this: if they lose it, they pay you nothing.  Loss of documents in a shipment is a possibility for any shipping company, but if it happens, I prefer that there be some compensation for my clients (and for myself) for having to replace lost documents and the corresponding Apostilles/Authentications.   For this reason, I never use UPS for THIS business-  always Fed Ex
Fed Ex generally has more drop off points and later drop off times in Los Angeles than does UPS or DHL.  That means that I have many options at the end of my day, when I urgently need to get many documents shipped off to my valued clients worldwide.
Hollywood Notary Dot Net owner, David Ransom, is an expert at Fed Ex shipping, having worked for Fed Ex for 14 years as a Fed Ex Customer Service Agent and 2 years as a Fed Ex Courier. Thus, David worked at Fed Ex for 16 years, and knows the Fed Ex system better than anyone in the Notary and Apostille/Document Legalization business. Additionally, David  maintains a knowledge of key updates and services within the Fed Ex system, and, last but not least, David maintains a positive personal and professional relationship with current Fed Ex personnel.
My customers are already delighted with the service that I am providing, through my use of Fed Ex.   Knowing that system allows me to offer options in the delivery of their packages.
To inquire how we can help you receive your California Apostille or Authentication at anywhere you wish, please email us at hollywoodnotary@gmail.com or call David at (323)393-5822. Thank you for choosing Hollywood Notary Dot Net!